HLK's Doctoral Students' Organisation
During the Spring Term 2020 HLK's Doctoral Student Organisation was created and directed by doctoral students the School of Education and Communication at Jönköping University. The purpose of the organisation is to be a locus for research students at HLK when it comes to academic and social activities. Every year two doctoral student representatives are elected by their peers at HLK to be responsible for the development of the organisation.
Learning and Communications Doctoral Symposium 2023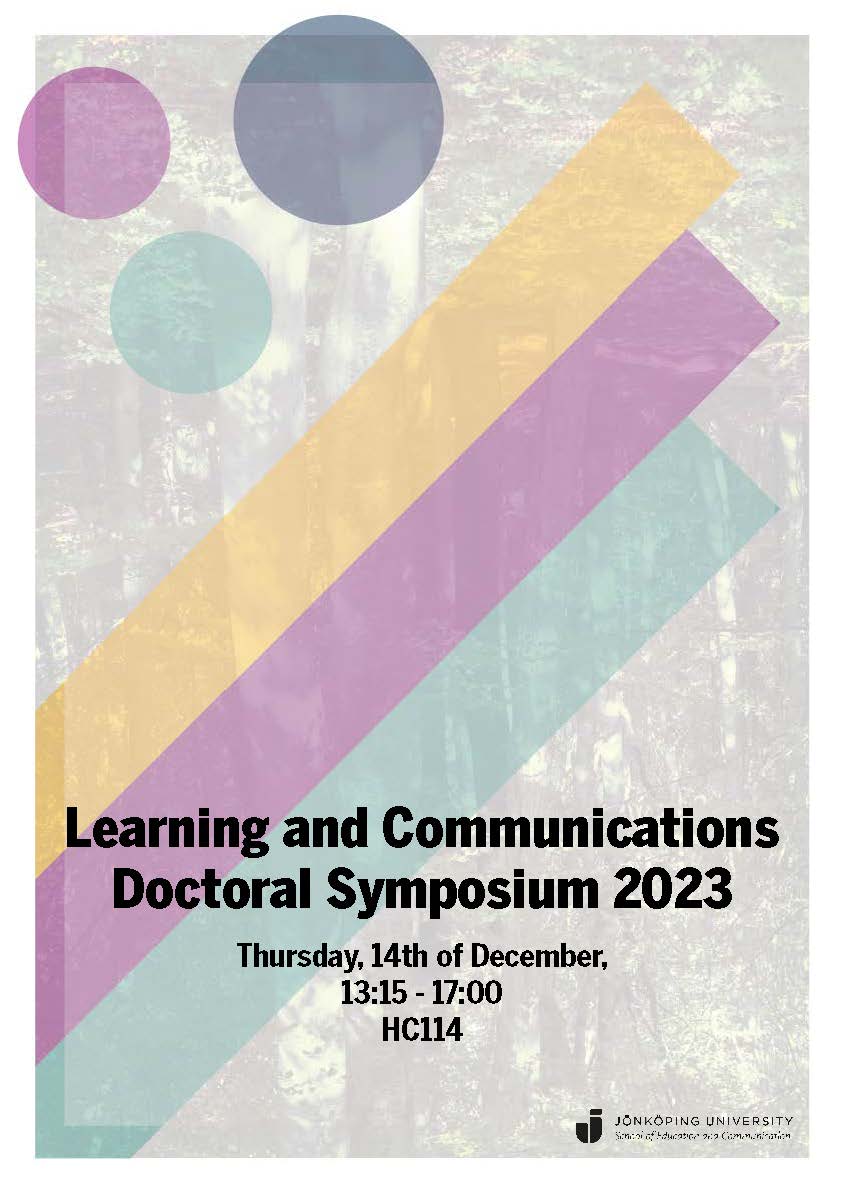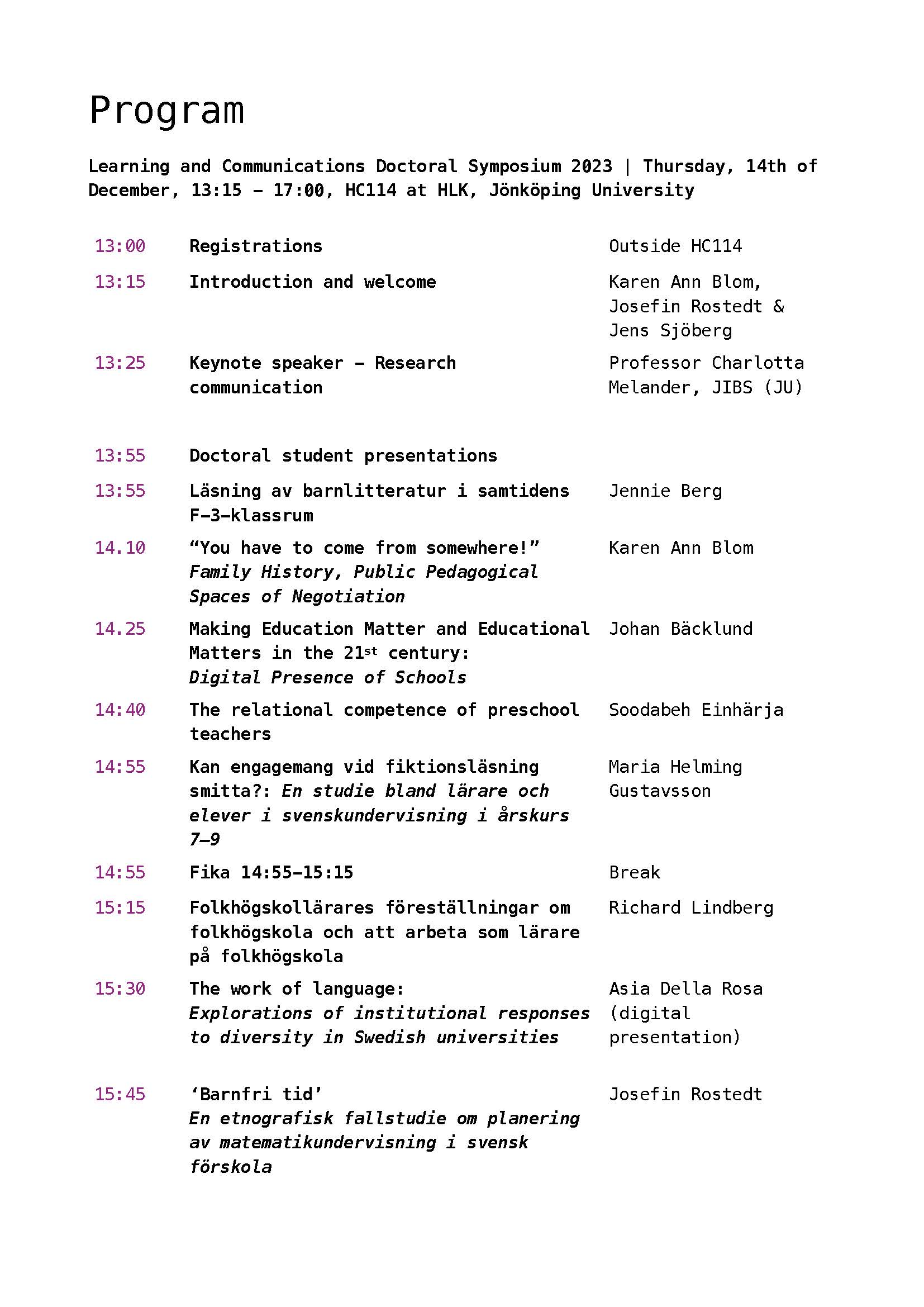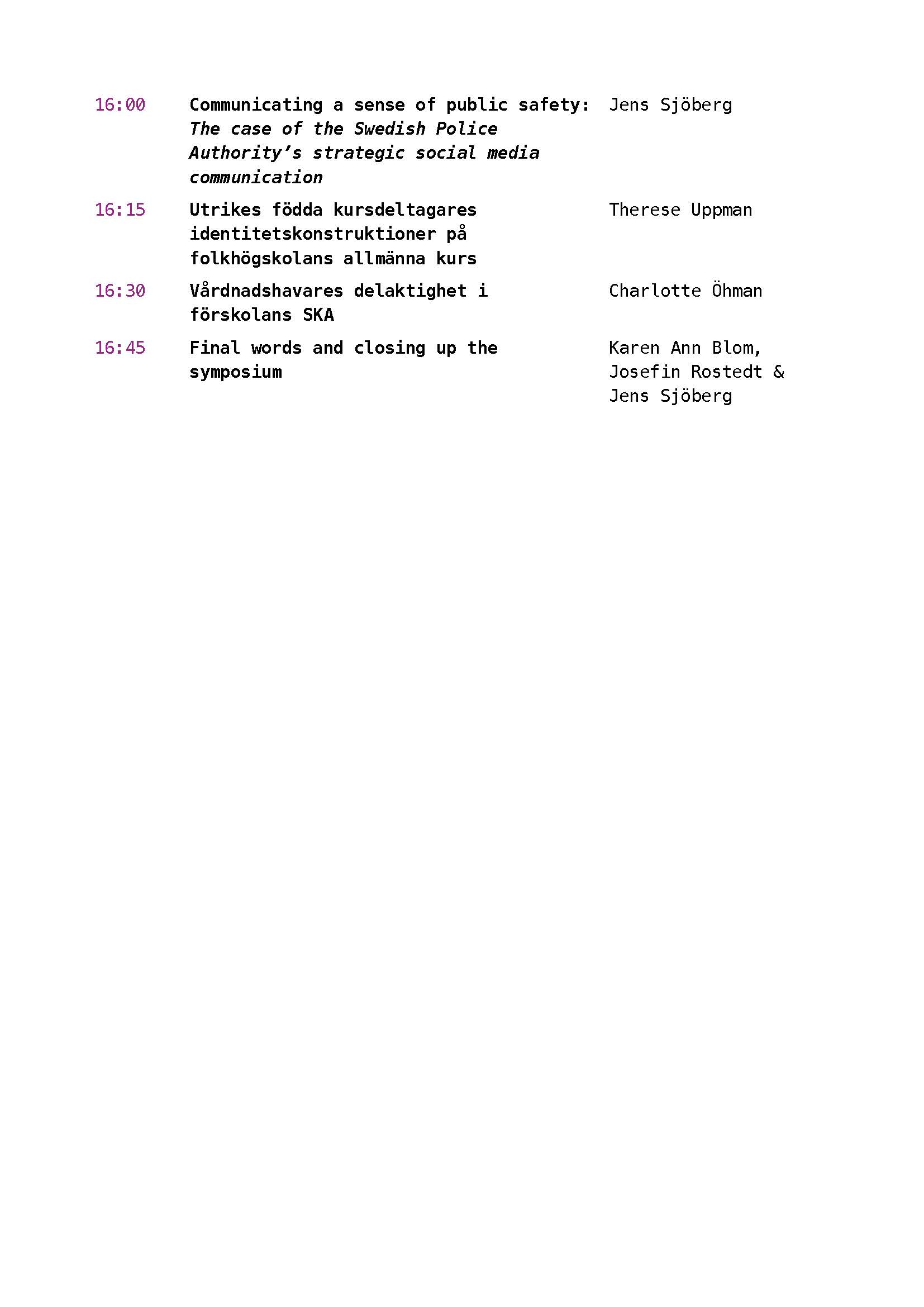 What do we do?
HLK's doctoral organisation works to establish an informative, united environment for all doctoral students at HLK. The organisation consists of two pillars: academic and social. Therefore we organise activities for doctoral students, which are related to research and work itself, while also hosting social activities to contribute to a more cohesive environment at HLK.
What do we offer?
The academic component
We organise research related activities such as "writing retreats", various lectures and workshops with senior researchers, with the intent to support doctoral students dissertation and research work.
The social component
During 2020 have we hosted various doctoral student meet-ups lunches and breakfasts over Zoom.
In 2021 we have met for fika, had a doctoral book circle and an informal text seminar. The Doctoral organisation has also invited doctoral students to a writing retreat that took place in the fall.
2023 /2024
"Shut up and Write"
Doctoral Fika.
Writing Retreat
Afterwork /Doctoral Dinners are on-going events. Watch your email for the next event or why not suggest a date?
Please contact the doctoral student representatives below for for further information or suggestions
Our Podcast
HLK's doctoral student organisation has started their own podcast! Below you can listen to the first exciting episode with Karen Ann Blom, Josefin Rostedt, and Jens Sjöberg. 
Podcast Episodes
Episode 17 Curious about MKV- PhD Annika W.:
We meet and learn more about new PhD Student Annika Wappelhorst.
Episode 16: We reflect on health, that it is soon holidays, introduce a few of our fellow doctoral students at HLK, and Jens reflects on his experience at a conference in Tallin.
A conversation with Professor Tobias Samuelsson.
Do you have a suggestion for a future episode? Don't hesitate to contact one of the following doctoral student representatives below.
Doctoral Student Organisation Representatives 2022-2023:
Asia Della Rosa
External link, opens in new window.
Other Doctoral representatives in key organisations:
HLK:s Forskningsnämnden representatives
JU Ethics Committee
Ethnography Network