Meet Zsófia from Hungary
After nearly two years in Sweden I still love the place and would not mind staying a while longer, starting off my working career here as well. Whatever happens after graduation in a couple of weeks, I know I'm leaving the School of Engineering with a broad knowledge in the field of Visual Effects (VFX) and a great showreel.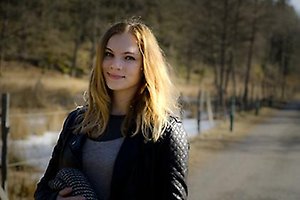 The visual effects programme is located in Eksjö, a small town 60 km east of Jönköping, and I have loved it here.
We have been a tight group, a mix of international and Swedish students. Over time we have become very close, almost like a family.

During the second year there have been internships in addition to theoretical studies. I have just finished an internship at a company in Stockholm, where I have learned a lot about how to work with VFX in commercial film. In addition to learning new techniques, it has been a great way to see how the industry works.

Thanks to what I have learned here, I also managed to land an internship at a VFX company last summer. My job there involved working with visual effects in TV series and films, which is rather different from working with commercials. It has been great to see both sides of the business and in the future I would love to somehow combine the two.

To anyone thinking of coming here, I say apply and do it!
It has been an awesome experience, both to learn new skills and to gain new friends. Oh, and definitely get a bike!

Zsófia
Student, Digital Visualisation, School of Engineering, Campus i12 in Eksjö